Stronger Together: Gathering Community for Farming in Challenging Times
Learn and Connect with others in the Richland County farming community.
All sessions are FREE and open to anyone. Lunch provided.
Doors open at 11:30am with meal provided. Program from noon until 1:00pm
Location: Extension Richland County Office,
1000 Hwy 14W, Richland Center, (UW-P-Richland East Hall)
December 10: Save, Fix or Invest? Paul Dietman (Compeer Financial & co-author of Fearless Farm Finances)  will discuss how to make financial decisions for your farm future.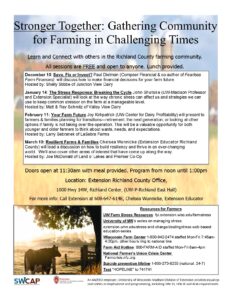 Hosted by: Shelly Stibbe of Junction View Dairy
If you missed this session, here is the video: Save, Fix, or Invest?
(The recorded session starts at the 1:50 mark.)
January 14: The Stress Response: Breaking the Cycle John Shutske (UW-Madison Professor and Extension Specialist) will look at the way chronic stress can affect us and strategies we can use to keep common stressor on the farm at a manageable level.
Hosted by: Matt & Ray Schmitz of Valley View Dairy
If you missed this session, here is the video: Breaking the Cycle
(The recorded session starts at the 1:45 mark.)
February 11: Your Farm Future Joy Kirkpatrick (UW-Center for Dairy Profitability) will present to farmers & families planning for transitions—retirement, the next generation, or looking at other   options if family is not taking over the operation. This will be a valuable opportunity for both   younger and older farmers to think about wants, needs, and expectations.
Hosted by: Larry Sebranek of LaSebra Farms
If you missed this session, here is the video: Your Farm Future
(The recorded session starts at the 1:22 mark.)
Also, here is a copy of the handouts available at this session:
10 Things to Consider for Succession Planning
What Does Your Future Look Like
Intentions for the Owner Generation
Intentions for the Successor Generation
Resilient Farms overview of farm succession
March 10: Resilient Farms & Families Chelsea Wunnicke (Extension Educator Richland County) will lead a discussion on how to build resiliency and thrive in an ever-changing world.  We'll also cover other areas of interest that have come up along the way.
Hosted by: Joe McDonald of Land o' Lakes and Premier Co-Op
If you missed this session, here is the video: Resilient Farms & Families
(The recorded session starts at the 1:25 mark.)
Also, here is a copy of the handouts available at this session:
Farmer Resiliency Project- Working to Eliminate Farmer Suicides in Southwestern WI SWCAP
Resiliency Tools SWTC
Resilient Farms & Families -Strength Under Stress Extension
For more info: Call Extension at 608-647-6148, Chelsea Wunnicke, Extension Educator
Funded in part by Wisconsin Partnership Program, UW School of Medicine & Public Health