Join 4-H!
4HOnline is where you enroll in 4-H. Questions? Contact the Richland County Extension Office at 647-6148.
4-H is open to all youth in kindergarten (5K) through 13th grade (one year after high school).
4-H Mission
4-H empowers youth to reach their full potential, working and learning in partnership with caring adults.
4-H Vision
A world in which youth and adults learn, grow and work together as catalysts for positive change.
4-H Emblem & Colors
The 4-H emblem is a four-leaf clover with the letter "H" on each leaf.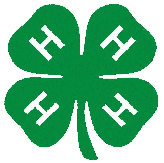 The colors are green and white.
4-H Motto & Slogan
The National 4-H motto is "To Make the Best Better". This is what we strive for, to better ourselves in everything we do. The 4-H slogan is "Learn by doing".
The 4-Hs
Head, Heart, Hands, and Health are the four H's in 4-H.These four H's represent the four-fold values, training, and development in which members work on through fun and engaging programs.
Head – Managing, Thinking
Heart – Relating, Caring
Hands – Giving, Working
Health – Being, Living
The 4-H Pledge
I pledge my HEAD to clearer thinking,
My HEART to greater loyalty,
My HANDS to larger service,
and my HEALTH to better living,
for my club, my community, my country, and my world.
2021-22 Richland County 4-H Handbook & Project Guide
Wisconsin 4-H Youth Development Policies