Richland County Home and Community Education (HCE) is dedicated to serving the community, and one of the many groups of citizens who have "stepped up" to assist their neighbors through the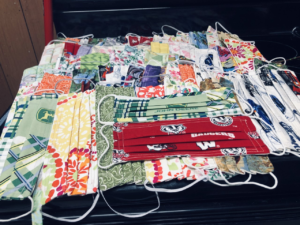 COVID-19 public health emergency.
In a normal year, their acts of service include visiting schools and nursing homes, donating items to Passages, and raising funds for an annual scholarship. Many of the HCE members are also skilled artisans, crafters, and seamstresses. Combine these skills with their desire to help, and you get a powerful force for good.
According to Richland County HCE President, Yvonne Chapman, "we started sewing face-coverings in March. As of July 7, we have donated a total of 3,616 face masks; 325 ear savers (6-inch ribbon with a button at each end to keep elastic off ears) and 30 headbands with buttons to keep elastic off ears." Chapman states that these items have all been gratefully received by many community institutions. "We deliver to The Richland Hospital, Sauk Prairie Hospital, Gunderson Hospital, Vernon Memorial Hospital, Passages, Alibit Senior center, Brewer Public Library, Greenway Terrace, Pine Valley, Schmitt Woodland Hills, Center Cafe, Hillsboro Drive-in, and many neighbors and family members."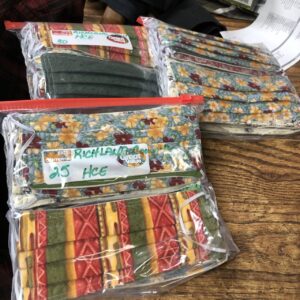 The Richland County HCE clubs include the County Liners, Yuba Homemakers, and Five Points Gals. The sewers include HCE Members Dawn Hanson, Linda Lickel, Yvonne Chapman, Eileen Eberle, and 1 volunteer Leanne Newman from Chippewa Falls. Several Yuba Homemakers have donated supplies for the masks.  The Richland County HCE plans to continue to make face masks as long as there is a need for them.  Chapman states that they have a simple motto: "We make and donate masks because your life is worth our time!"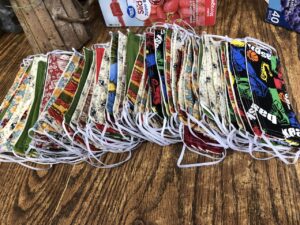 If there is anyone who would like to join HCE, if there are local groups who needs masks, or if anyone is able to donate fabric or thread, please contact Yvonne Chapman at (608) 528-4334.
More information about Richland County Homemakers can be found at https://richland.extension.wisc.edu/family-living/hce-programs/.
For more information on Considerations for Wearing Cloth Face Coverings from the CDC.