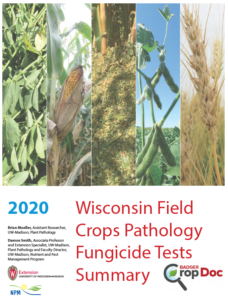 Every year the Wisconsin Field Crops Pathology Program (led by NPM Faculty Director Damon Smith) conducts a wide array of fungicide trials on alfalfa, corn, soybeans, and wheat. These tests inform researchers, practitioners, and farmers about the efficacy of certain fungicide products on specific diseases. The 16-page report can be a useful resource for making fungicide decisions in anticipation of the 2021 growing season.
2020 Wisconsin Field Crops Fungicide Summary
Please note: The NPM Program has hard copy versions of many of these publications. However, given the current "Safer at Home" guidance, we are unable to fulfill shipping requests. Once we return to our office, shipping of publications can resume. Please send requests to npm@hort.wisc.edu noting the number of copies you would like and a mailing address.