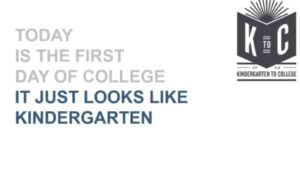 Back to school is a great time to plan for your child's future
"They grow up so quickly!" How many times have you been told that or thought that as a parent? Back to school time is certainly one of those milestones that mark the passing years, especially when your child is starting school full-time. Before you know it, a kindergartner will be a High School Junior, looking at colleges and thinking about the future.
Many parents, with the help of friends and family, begin planning for their child's future higher education right at birth. That's great to get an early start on investing in your child's future, and yet not all families are able to save money for college when they have young children.
Finding money in the budget to save for college is a challenge for many families, yet there may also be some opportunities as your child gets older. Perhaps you have been paying child care costs, but now your child is starting school half-days or full-days. Some households may be able to use savings from previous child care expenses to start their college savings fund. The average cost of child care in Wisconsin for a 4-year-old is nearly $9500 per year, or about $36 per day for a 5-day week. If a family is able to save even half of this cost for college during their child's 13 years of K-12 schooling, that would total over $60,000 for that child's future education!
"It's not just about how much money parents are able to save," says Peggy Olive, financial capability specialist with the University of Wisconsin-Extension and UW-Madison's Center for Financial Security. "When children see their parents setting aside money for their college education and career training, it sends a powerful message to kids about the importance of their future." (or add your own quote here)
Research on college savings accounts for young children suggests that children are four times more likely to enroll in college and about five times more likely to graduate from college than a child with no savings account. Higher enrollment and graduation rates were found even in families with less than $500 saved for their child's future education. Having this special savings account contributes to a 'college-bound identity' when children know they are expected to continue studying for their future profession after high school.
Children with a 'college-bound identity' are found to do better in high school, are more engaged in school, and even get higher grades. Having a designated college savings account is also linked to more interaction between parents and children about finances and conversations about the future. Parents also feel good investing in their child's future and report higher levels of self-esteem and self-confidence when they are able to set money aside.
"It's never too late to set aside a small amount of money earmarked for future education, whether your child is 6 or 16," reminds Olive. "And if families don't have the money, all the more reason to have frequent conversations with children about their future goals."
To find resources and tools to help with saving for college, visit the UW-Extension website: fyi.extension.wisc.edu/collegesavings. Or talk to your local UW-Extension office for more ideas and strategies about household budgeting. Chelsea Wunnicke, Richland County Family Living Agent can meet with households one-on-one to discuss financial matters and is a co-leader of the Small Savings Build Big Dreams team.
Contact:  Chelsea Wunnicke, Richland County Family Living Agent, email: chelsea.wunnicke@wisc.edu or phone: 608-647-6148